The MA and PhD Program in Health (specialized field in Health Policy & Equity) emphasizes the analysis and promotion of equity in health through public policy action. It is directed at the societal causes of inequalities in health and the organization and delivery of health care and how public policy can redress these issues.
The program offers a comprehensive curriculum covering major scholarly perspectives. The structure and environment of the field encourage advanced research, new scholarship and opportunities to contribute to the discipline, enabling students to explore health policy in relation to equity and human rights perspectives.
---
Important Dates & Deadlines
Important Dates for Graduate Students
---
Current News
Professor Peter Tsasis, in the School of Health Policy and Management is co-editor with Hassan Qudrat-Ullah on new book Innovative Healthcare Systems for the 21st Century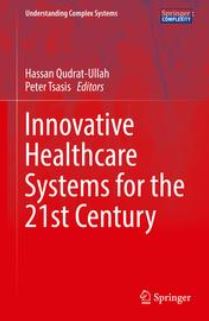 The book presents the latest in decision-making tools, techniques, and solutions for policy makers to utilize in overcoming the challenges faced by healthcare systems. With contributions from experts world-wide, an array of healthcare management models, techniques, and integrative solutions are presented, drawing on econometric, system dynamics, and agent-based models as well as state-of-the-art empirical studies. As total healthcare spending (both total expenditures on health as a percentage of GDP and average spending on per capita) increases across most of the world's economies, healthcare systems continue to face challenges in terms of cost, quality, and access, as a result of its fragmented nature. Consequently, healthcare managers and policy makers require innovative integrative approaches and solutions to better manage complex, dynamic healthcare systems.